ACCUCLEAN WHOLE HOME AIR FILTRATION SYSTEM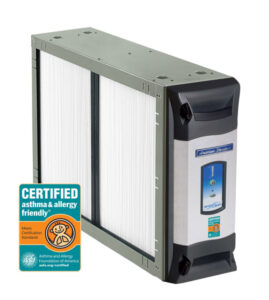 WHAT IS IAQ AND WHY ACCUCLEAN WHOLE HOME AIR FILTRATION SYSTEM IS IMPORTANT?
Indoor air quality (IAQ) refers to the quality of air within and around buildings and structures. It is essential to understand that we spend most of our time indoors, and the air we breathe can have a significant impact on our health and quality of life. Poor IAQ can cause health problems such as respiratory infections, allergies, and even chronic diseases such as asthma, heart disease, and cancer.
The quality of indoor air can be affected by pollutants from both indoor and outdoor sources. These pollutants can include chemicals, dust, pollen, and biological contaminants such as bacteria, viruses, and mold. It is therefore crucial to maintain good IAQ to ensure a healthy and comfortable living and working environment.
COMMON INDOOR AIR POLLUTANTS
Indoor air pollutants can come from a variety of sources, including cleaning products, building materials, and furniture. Here are some of the most common indoor air pollutants:
1. Volatile Organic Compounds (VOCs)
VOCs are chemicals that evaporate at room temperature and can come from common household items such as paint, adhesives, cleaning products, and air fresheners. Exposure to high levels of VOCs can cause eye, nose, and throat irritation, headaches, and even more severe health problems.
2. Particulate Matter (PM)
PM refers to tiny particles that can be inhaled into the lungs and cause respiratory problems. PM can come from sources such as tobacco smoke, cooking, and outdoor pollution.
3. Biological Contaminants
Biological contaminants such as mold, bacteria, and viruses can cause respiratory problems, allergies, and other health issues. These contaminants can grow in damp or humid areas such as bathrooms, kitchens, and basements.
HEALTH RISKS ASSOCIATED WITH POOR IAQ
Poor IAQ can cause a wide range of health problems, particularly for vulnerable populations such as children, the elderly, and those with pre-existing health conditions. Here are some of the health risks associated with poor IAQ:
1. Respiratory Problems
Exposure to indoor air pollutants can cause respiratory problems such as coughing, wheezing, and shortness of breath. These symptoms can be particularly severe for those with asthma.
2. Allergies
Indoor air pollutants can trigger allergies such as sneezing, runny nose, and itchy eyes. Allergies can affect quality of life and lead to chronic health problems.
3. Cancer
Exposure to certain indoor air pollutants such as radon and asbestos has been linked to an increased risk of cancer.
THE BENEFITS OF GOOD IAQ
Maintaining good IAQ has numerous benefits for both individuals and the environment. Here are some of the benefits of good IAQ:
1. Improved Health
Good IAQ can lead to improved respiratory health, fewer allergies, and a reduced risk of chronic diseases such as cancer.
2. Increased Comfort
Good IAQ can make indoor spaces more comfortable by reducing odors, humidity, and temperature fluctuations.
3. Reduced Energy Costs
Maintaining good IAQ can also lead to reduced energy costs by improving the efficiency of heating and cooling systems.