COMMERCIAL AC REPAIR LAS VEGAS
Whether you need Commercial AC repair in las vegas, heating installations, or maintenance, Airtech LLC can meet all of your commercial HVAC services in Las Vegas. We are true specialists in this field. We understand that commercial HVAC services need a greater degree of expertise and experience than domestic HVAC services. This is due to the fact that commercial HVAC equipment is bigger and demands heavier loads, as well as being more complicated than residential HVAC equipment.
Problems with the air conditioning or heating should not cause you any difficulties at work with commercial ac repair Las Vegas! Our commercial HVAC in Las Vegas experts can quickly identify the best solutions for your systems, allowing you to return to work in a pleasant environment in no time.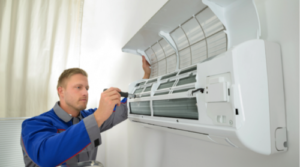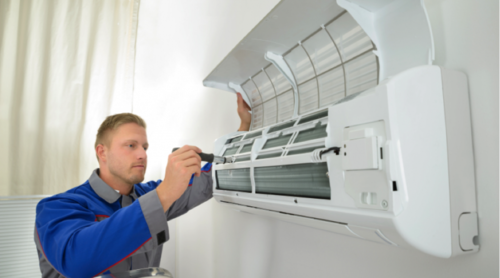 HEATING SERVICES FOR COMMERCIAL USE
The scenario may arise when one component of the heating system begins to fail, with the resulting consequences being that the whole system is harmed. Airtech LLC is one of the finest HVAC commercial ac services in las vegas. We not only install and maintain various kinds commercial ac repair, but we can also do any required repairs on these systems. 
Our highly-trained staff of genuine professionals is on call 24 hours a day, seven days a week to check that your heating system is properly installed, works properly, or requires urgent repair. We have experience with all makes and models of heating equipment. Water heaters, heat pumps, and other similar devices are all serviced to the highest standards, with particular care paid to your budget and location.
HVAC SERVICES FOR COMMERCIAL BUILDINGS IN LAS VEGAS
The following are some of the heating services provided by our commercial HVAC business in Las Vegas:
Installations.
Maintenance.
Repairs.
Call now for a no-obligation consultation.
COMMERCIAL HVAC REPAIR AND SERVICES INCLUDE THE FOLLOWING:
Are you looking for office air conditioning service or HVAC commercial ac repair in las vegas? Are you looking for office air conditioning service? Las Vegas business HVAC company, Airtech LLC, is ready and willing to assist you. Having worked as a commercial air conditioning contractor for the last few years, we have the expertise to service a wide range of AC systems. 
We make use of high-end equipment that is second to none. If you're seeking to save money on your energy bills because of the scorching heat in Las Vegas, go no further than our business. 
If you need a new air conditioning unit installation, we will determine the requirement and supply you with the required amount as well as the most suitable place for it.