EMERGENCY AC REPAIR IN LAS VEGAS – AIR TECH1 LLC
If you're a homeowner in the Las Vegas area, you know that air conditioning is an absolute must. Keeping your home cool and comfortable during the blisteringly hot summers is essential to ensuring a good quality of life. But what happens if your AC breaks down? What do you do when you need emergency ac repair in Las Vegas?
Need emergency AC repair in the las vegas area? contact us, call now or text us at 702-803-3754 directly for a fast estimate.
HOW TO IDENTIFY AC EMERGENCIES
Identifying an AC emergency can be tricky, especially if you don't have any experience with HVAC systems. Generally speaking, if you have noticed a sudden decrease in the cooling efficiency of your air conditioner or it has completely stopped working, then it's likely time for an emergency repair job. Other symptoms of an HVAC emergency include strange noises coming from the system, unusual smells, and water leakage. If any of these issues arise, it's best to call a professional right away.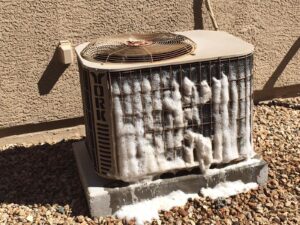 FINDING THE RIGHT TECHNICIAN
When searching for an ac repair technician in Las Vegas, it's important to make sure they are licensed and insured. Doing research on their reputation and customer reviews can also be helpful in finding one that can provide high-quality service. It's also wise to ask what kind of warranties they offer on their services—this way you can rest assured knowing that your system is properly covered should any problems arise again down the line.
AC emergencies don't have to be stressful if you know where to turn for help. By doing some research ahead of time and finding reliable technicians who are licensed and insured, homeowners can feel confident knowing that their air conditioners will be back up and running as soon as possible—allowing them to get back to living comfortably during those hot summer days in Las Vegas. With this information about emergency AC repair in mind, no homeowner needs to worry about feeling the heat!